Lily of the Valley – The Tradition
The Pays de la Loire region of France produces a huge amount of Lily of the Valley (or Muguet). In fact, it produces over 40% of the entire French crop.
Muguet is extremely popular amongst the French, especially around May day each year when it is offered to friends to wish them luck, and, although originating in Japan, has been cultivated in France since the middle ages.
This year the crop has been really slow, due to the cold weather, and so production is really down on previous years. This is bound to have an effect on prices – odd to think that a plant that is completely poisonous can command premium prices.
It was on 1st May 1561 that Charles IX started a tradition of giving a small piece of lily of the valley to bring luck, although it wasn't until 1936 that the flower became associated with the labour day in France (the Fête du Travail).
Fête du Travail et des Travailleurs
The date of 1st May was adopted as the Fête du Travail et des Travailleurs in 1889 in memory of people who had died demonstrating for an eight-hour working day in the Chicago riots.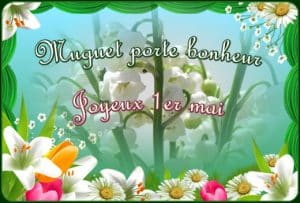 In 1890 during a demonstration in Paris, workers wore a red triangle in their buttonholes to symbolise the ideal division of the day into three equal parts comprising work, rest and leisure. Later this red triangle was replaced by the wild rose and eventually by the lily of the valley, linking this flower with the Fête du Travail ever since. However, it wasn't until 1936 that lily of the valley was first offered for sale to celebrate the 1st May.