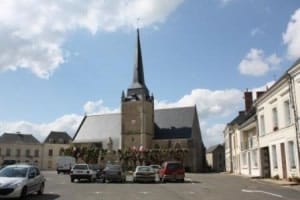 "Ce n'est pas difficile !"
Woken from my slumbers after a hard day's work I could hardly believe my ears! My husband was sleep-talking in French. When studying languages at university, I had been told that dreaming in a foreign language was a sure sign of progress. So there we were, in our recently acquired house in the charming little village of Marçon in the Pays de la Loire region of France, and already its magic had worked where 'O' level French and many annual holidays and visits from French friends over the years had failed.
The prospect of having our own little pied-à-terre in France had always appealed to us and although we had holidayed in other countries and had even toyed with the idea of buying property there, in our heart of hearts we knew that there was no contest – it had to be France.
And my husband was right. It wasn't difficult. In fact, it all happened within four months of making the decision to take the plunge and look in earnest.
However, although the decision was a long time in making we didn"t tumble headlong into the process but marshalled our thoughts, dreams, and priorities before embarking on our quest.
First thoughts: where?
With no immediate plans to retire nor to make this a permanent move, we considered carefully how long the journey from home should be – from door to door. Happy memories of sun-soaked holidays in Provence did not cloud the issue, we wanted to be able to snatch long weekends from our working lives as well as enjoy longer stays, so our search was to concentrate on destinations within a reasonable drive from the Channel ports. Newhaven is a mere 20 minutes from our home so Dieppe was our natural starting point. We studied the maps and reckoned up the kilometres in road hours. My parents, inveterate Francophiles and responsible for introducing me at an early age to the delights of French life and language, always returned to the Loire and now, looking at the map, it was the area that answered our initial criteria: half a day's drive from the Channel, a climate of warm summers and crisp winters, bathed in history, endowed with beautiful architecture, the birthplace of poets and scholars, and the blessing of verdant, fertile land – truly the garden of France. To crown it all, the French spoken in the region is crystal clear and is indeed reputed to be the purest in France.
Preparations
Thank heavens for the Internet! In the past, I had perused the holiday pages of the Sunday Times to find accommodation for our summer break and had always been lucky. But now I needed to cast my nets more widely to pinpoint a town where we would base our search. After several surfing sessions, I ended up with a list of potential gîtes scattered around the northern and southern Loire, and the next stage was to call the owners to find out the exact locations and to ask questions about the area. We had both decided that much as we love the countryside and the solitude it provides, our dream property was likely to be in a town or village for the kind of services and support we would need, particularly as we would be absent for long periods – in the foreseeable future at least.
Lift-off
Having whittled down the possibilities, we plumped for a little market town about an hour's drive south of Tours, and, with the car packed to the brim with bedding, provisions, and a large folder for notes and property details, we set off full of hope and trepidation on our voyage of discovery…