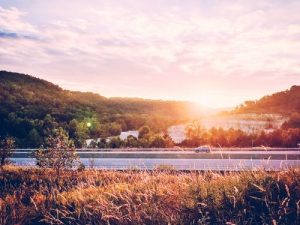 French Autoroute System
UK drivers who regularly travel up and down France on the motorways need to be aware of the French system. Unlike the UK, France has a large network of autoroutes which require the payment of a toll if you want to use them. The tolls payable aren't cheap (for example, it's around 55 Euros to travel between Caen and Bordeaux), but the roads are well maintained, usually quiet, and really do cut journey times. The maximum speed limit is 130km/h, except when it is raining when the speed limit is reduced to 110km/h.
Toll Booth Delays at French Péages
However, in built-up areas and during peak periods elsewhere, there can often be very large queues at the toll booths, which can delay an otherwise rapid journey through France. At these toll booths (péages) it's not always obvious which booth drivers need to go to, which can cause some last minute changes of direction. Some booths take cash, others take cards and cash, and others are for the vehicles that have a transponder (or tag) fitted.
Transponders for fast use of French Toll booths
We've often wondered how to make use of the "fast lane" booths, the ones where the barriers are raised without the driver having to hand over any cash, or enter a credit or debit card. These booths generally don't have as much traffic passing through them, and the vehicles that do use them go through very quickly. Well, now we know…
The vehicles are fitted with transponders, little electronic tags that sit inside the windscreen just behind the rear-view mirror. As a vehicle approaches the barrier, the tag is 'read' and the barrier is raised. Payment then comes out of your nominated UK bank account. You can now buy these transponders in the UK for use when you're in France.
The company that provided them was called Sanef Tolling and were licenced to supply transponders for light vehicles (not larger vehicles like motorhomes for the time being). This UK company now seems to be offering the electronic tags. There are no toll discounts available, and you have to pay a registration fee, a deposit for the tag, an annual management fee as well as a usage fee for each month that you actually use it (but there is a payment ceiling after 2 months of usage in any year). However, the tag is transferable between vehicles.
I don't think the convenience of this system outweighs the cost for us – we use toll roads for no more than 6 or 7 days each year, and generally away from the busy areas and outside of peak periods, but I'm sure that this will be useful to a lot of English second-home owners in France.
Let us know what you think. Could it be for you?