History of the Brittany Vintage Car Rally
The 30th Brittany Vintage Car Rally takes place this weekend (21st – 24th May 2010). The first Tour de Bretagne Rally was organised way back in 1966 and has grown in interest ever since.
This year 1,300 ancient cars, lorries, bikes, motorcycles (and Solex) will take part in one of two convoys for a rally around Brittany. Each convoy will leave Chateaulin, with one route going North and the other South, with both converging for a finish at Champ de Mars Place de Gaulle in Rennes.
Well over 2,000 participants, in authentic costumes, will spend what looks like a wonderful weekend driving around the Breton countryside. So, if you are one of them, or if you manage to see any of the cars, please comment here.
Bon Courage !
Update in 2019
The Vintage Car Rally is still going strong and 2019 saw the 39th edition of that fabulous event.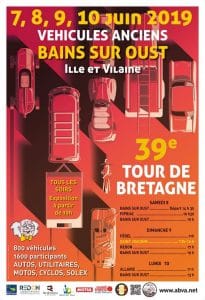 This year 200,000 to 300,000 visitors are expected.
No other event in France features that many vehicles. The variety of outfits on display is also amazing. In fact, each one matches the period of the car it travels with. Visitors can admire several hundred vintage cars travelling leisurely along the beautiful roads of the area for 3 whole days.
This event contributes greatly to the promotion of the Brittany region and its heritage all over France, but also abroad. For instance, half the participants come from other parts of the country as well as the UK and Germany.
A free exhibition will take place both in the departing and arriving towns, as well as at various stages along the itinerary. It will feature the vintage cars and participants in period costume.
A generous communication budget has contributed to great publicity for this event. Articles have been written, printed and broadcast in specialist magazines, newspapers, radio stations and even television, with astounding success.
The itinerary is 450 kms long, travels through 70 villages and includes stops at 5 key towns. Between 200,000 and 300,000 people are likely to follow our vintage car rally which constitutes a real industrial heritage. Miles and miles of enjoyment along the sea shores, down a picturesque country lane, or why not past a quaint isolated chapel?
Finally, to make the pleasure more enjoyable, the route varies each year.