'All good things come to an end' and after a remarkably mild winter the snow arrived!
Not to be deterred Gérald and I headed off to the organic and biodynamic La Dive Bouteille wine fair, held in the impressive troglodyte caves under the stunning Château de Brézé.
Marion from Bistrot Les Tontons joined us as we sourced new wines, not only for our wine bar, Bistrot Les Tontons in Saumur but also for Ten Green Bottles, with whom we have a partnership and wine bar in Brighton, The Wine Shop & Tasting Room.
An extremely well supported wine fair: vignerons from – Champagne – Alsace – Jura – Savoie – Bourgogne – Beaujolais – Bordeaux et Sud-Ouest – Rhône – Languedoc – Roussillon – Provence-Corse – Loire – were in attendance.
Including producers from Géorgie, Serbie, Italie, le Coste (Italie), Espagne; Argentine, Chili and producers presenting cognac, ciders and liqueurs.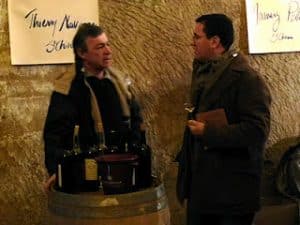 An expert in his field, it is always an enlightening experience for me to join Gérald at wine fairs, not only to sample new and vintage wines but, in addition, to meet the vignerons directly, many of whom Gérald has known since his days of owning a bar à vin, wine bar in Paris. On Monday I had the pleasure of meeting Thierry Navarre, Domaine Thierry Navarre – Domaine Thierry Navarre will soon be available at Bistrot Les Tontons, Saumur.
Gallery of Photos : 13ème Dive Bouteille